Road Traffic Accidents - Car accident
Added: 2009-05-26 11:08:12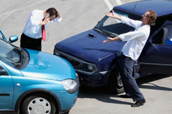 What to do if you are in a road accident.
Every day there are road accidents. Some are very serious causing terrible injuries or even death, many are trivial and only cause damage to your car and a lot more are somewhere in between. If you are involved in an accident you need to know what to do and what your legal rights and obligations are.
Road Accidents can involve drivers and passengers in cars, vans, buses and lorries as well as cyclists, motorcyclists and pedestrians. A typical road accident that happens all the time is a rear-end shunt. In this type of accident, a driver stops at traffic lights or at a traffic island or stops in the road to make a right turn. The driver behind is not paying proper attention and he drives into the back of the first car. Operating the radio, satellite navigation equipment or mobile phones or just talking to passengers can distract the driver. You should not use a mobile phone when driving unless you use a hands free kit. You could be prosecuted. There are also still some people who get in a car after they have been drinking and they are a lot more likely to cause an accident. Young and inexperienced drivers are also more likely to cause accidents.
The typical injury caused in a rear end shunt is a whiplash injury. This causes a strain to the muscles in the neck and sometimes also the back and the shoulder. Usually no bones are broken and most people make a good recovery but it can take many months for the pain to go away.
If you are injured in a road accident the first thing you should do is think about your safety and the safety of other people. If no one appears to be seriously injured and you can move your vehicle, so that it is not blocking the road, then move it. You should then get the details of the other driver. You need his name, address and his vehicle registration number. If you can, you should also get the drivers insurance details, but getting the registration number is the most important of all. Later, your solicitor will be able to track down the insurance details and details of the driver from the registration number, but always try to get as much information as you can.
If no one appears to be injured and the vehicles can be driven you do not need to call the police. If it is obvious that an ambulance needs to be called dial 999 and the police will come as well as an ambulance. If the other driver does not give you his details or drives away without stopping you should call the police. Try to get the details of any witnesses and if you have a phone with a camera take pictures of the vehicles.
If you are so injured that you need to go to hospital, the police will attend and they will probably get all the details of the other driver and any witnesses.
You must give your details to anyone else if they ask you. The police can ask you to give a breath test to make sure that you were not drinking.
Do not admit the accident was your fault even if you think it might be. It is better to get legal advice later when the full circumstances of the accident can be considered. Do not drive away from the scene of the accident without leaving your details. If the police attend the accident do not leave the accident scene until the police have said that you can leave.
The job of the police is to decide whether any motoring offences were committed such as speeding, drink driving or driving without due care and attention. The police do not decide who was to blame for the accident. As soon as possible after the accident you should report the accident to your insurers. If you have comprehensive insurance they can assess your car and arrange for it to be repaired. If your car cannot be repaired they will offer you a settlement for your car. If you do not have comprehensive insurance then you will have to get estimates for the repair of your car. If you need a hire car, shop around for the best deal and make sure that you do not hire a car for too long. Your solicitors may be able to arrange for you to be provided with a hire car free of charge if the accident was not your fault.
If you want to claim for injuries you have to prove you were injured. This may sound obvious if you were taken to hospital and had X-rays showing your leg was broken, but in other cases it is not always so obvious. Sometimes it can take a few days for neck pain to tell you that you should consult a doctor. If you do not see a doctor the insurance company are not likely to believe that you were injured, so even if you do not think your injury is serous you should see a doctor.
If the other driver was to blame you will need to claim against them for the damage to your car, any financial losses (eg loss of earnings, medical expenses) and your personal injuries. You should have a solicitor if you are claiming for personal injuries. You can choose any solicitor you wish. You do not have to use the solicitor recommended by your insurer. If you do not speak much English do not worry because there are solicitors with Polish speaking staff.
If you have a good case you do not need to worry about legal costs. You might have insurance to cover your legal costs, but if you don't you can ask your solicitor to take on the case under a "conditional fee agreement" which is commonly called "no win no fee". If you lose, you have nothing to pay. If you win, your solicitors can charge you but in practice their bill will be paid by the insurance company of the driver who caused the accident. Your solicitor will be able to explain how it all works.
Uninsured Drivers
It is compulsory to have insurance if you drive a motor vehicle on the road, but some estimates suggest that 1 in 10 drivers do not have insurance. If the driver who hit you does not have insurance you can still claim because an organisation called the Motor Insurers Bureau acts as the insurer of "last resort". It is important when the driver is not insured that you report the case to the police if they did not come to the scene of the accident. If the other driver was not insured he might try to drive away or run away from the scene. If you can, take a photograph of him and his car. Make a note of his registration number and call the police straightaway. Sometimes the driver will give you false insurance details or tell you that he will give them to you later. Your solicitor can write a letter demanding the insurance details and will want to report the matter to the police if you have not already done it.
If the driver did not stop and you did not get the insurance details you can still make a claim but you will not recover all your losses for damage to your car or other property but you can be compensated for your injuries in full.
If there is any doubt about the insurance of the other driver you must report the case to the police.
How long do cases take?
Every case is different. Simple whiplash cases can be settled within a few months. If the injury is not too serious and liability is accepted cases can often be settled within 6 months sometimes even more quickly than that. Probably the average time it takes a case to be settled is between 12 and 18 months.
Cases take longer if liability is disputed or if the injuries are serious. The most serious cases with very bad injuries always take longer. This is because the injured person may take a long time to recover. Motorcyclists often suffer the worst injuries. Some broken legs have to be fixed with plates and screws. It can take a long time before you can tell whether the person can go back to work or not. It is unwise to settle a claim when there are many uncertainties about a case. Once the case is settled it is binding. If it is going to take a long time to settle your case you may be able to get an interim payment.
In cases of serious injuries some insurance companies will offer medical help. Sometimes you can get medical help more quickly from the insurance company than from the National Health Service.
How much compensation can be awarded?
You can be awarded your reasonable losses and expenses. These can include car hire, loss of earnings, the loss of your car, medical expenses and travel expenses. If you are injured then the amount of your compensation for your injuries can be negotiated by your solicitor with the other driver's insurance company. There are guidelines for how much should be awarded. Typical awards for whiplash injuries can be between £1,000 and £5,000 depending on how bad the injury was. This is on top of your other expenses. Your solicitor will obtain a medical report about your injuries and will advise you on what your claim is worth. More serious injuries like broken limbs can be worth much more and more still if you are unable to return to work. If you need someone to look after you, you can claim compensation for their time. Always keep a note of any expenses you incur and keep receipts so that you can prove it later.
Most cases settle without having to go to court, but if your solicitor believes that the insurers are not offering you enough they will advise you to take your case to court so that the judge can decide.
Fatal Accidents
It is a sad fact that hundreds of accidents are fatal. Motor vehicles can be lethal machines. When there has been a fatal accident, the police will make a very thorough investigation in to the circumstances. When they have completed their enquiries there will be an Inquest held by a judge called the Coroner. The hearing at the Inquest is not to decide who was to blame for the accident but to establish where, when and how an accident occurred. The family of the deceased are entitled to be represented by lawyers at the hearing who can question the police and any witnesses..
After the inquest the police file will normally be released and the solicitors for the family can advise on whether there is a good case. If the claim succeeds the dependents of the deceased can be awarded compensation for the loss of financial support. For a married man with children this could mean payment for the widow and his children, but other relatives, such as an elderly mother supported by the deceased might also be able to claim.