Eye injury
Added: 2009-08-25 12:25:39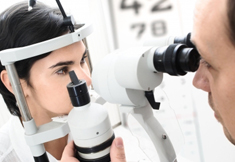 Knowing how important is the sight in day to day life, all the eye injures are an trauma for humanbeing. This very complex organ of sight has very low level of resistance at the same time. Due to this fact thereare many accidents in which the eye is injured occures each year.
There are possibilities of claiming for compensation if you were injured during laisure activities like hill walking. This claim if fully reasonable when you were not prevented by the turist guide that this kind of accidents may happen to you. Car accidents are also common ways of hurting eye or even loosing sight. Another, freuently occuring in the raports ways of hurting eye are chemical and heat burns, hazardous substances which came into the eye, the impact of slip, trip or fall . This kind of accidents are more likely to happen at the workplace rather than at home.
The level of the award for an eye injury very from £1,000 to £150,000. The amount of money which you may recive depends on the type of injury - highest severity of the damage gives highest award. During the complain investigation the permanency of the injury is taken under consideration and has also great impact on the award's level.