Road traffic accident
Added: 2009-05-25 12:58:39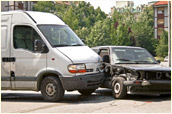 Road traffic accidents represent one of the most common causes for personal injury.
It is a sad fact but most of us will be involved in at least one road traffic accident within our lives and currently there are over 300,000 injuries caused by road traffic accidents every year.
When you can claim compensation?
If you are an innocent victim that has been involved in an traffic accident, you can apply for a claim compensation.
Your compensation should indemnify damage sustained during your traffic accident, for example whiplash injuries, head injuries, broken bones, cuts, destroyed clothes,trauma, etc. If you are unfortunate enough to be involved in a horrific road traffic accident, you may be entitled to make a claim for compensation if the accident was not your fault and your injuries were caused by the bad driving or wrongdoing of another party.
Whether you were the injured driver in a vehicle or passenger either a pedestriancyclist or indeed a motorcyclist, your personal injury compensation claim would be made against the insurance company of the person responsible for the accident, whether that is the driver of the vehicle you were travelling in or a third party driver (or both if necessary). You should take names, addresses and telephone numbers of any witnesses to the accident and take photographs of the accident locus if possible. If the third party driver has no valid insurance, leaves the scene or admits to driving a stolen vehicle, you should contact the Police immediately and report the incident.
Also in the sytuation, when you were a passenger on a form of public transport that was involved in a road traffic accident that was caused due to driver neglect then you could make also a claim for compensation.